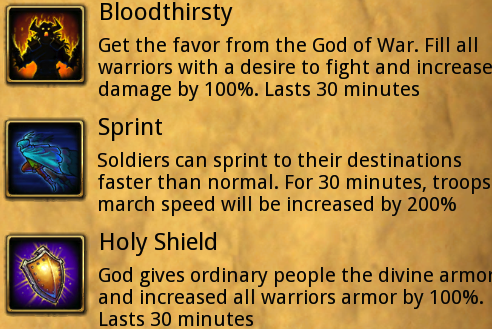 Bloodthirsty :
I use the Bloodthirsty buff to attack 
inactive player with might 0 and crash their castle. To earn easily Battle points.
Sprint :
I use the sprint buff to attack bigger player with 0 might (because I destroy them before). I just sent 1 
archer, and try to make as much as travel as possible. To earn fast resource.
Holy shield :
I don't know what to do with this buff. I don't want to attack anyone because I loose troops. Even less I 
don't like. Each time I get it, I say "Holy Shit" 

Spirit Protector :
My favorite ! 

With this buff, I attack the undead, the best player if we are in war, try different thing because I don't care, troops cant be lost only injured. A most ! To earn Battle points and resources very fast.